Indiana's Hepatitis C Rate Is Double The National Average, And Weak Prevention Laws Aren't Helping
A new report from the Centers for Disease Control and Prevention (CDC) ranks Indiana among the states with the highest rates of hepatitis C infection, a virus that destroys the liver and leads to liver cancer. Indiana's rate is double the national average with 2 per 100,000 people affected. These people recently tested for and were diagnosed with hepatitis C.
It's a nationwide trend. Hepatitis C virus incidence has increased 294 percent from 2010 to 2015. The rising incidence is primarily associated with increased injection drug use. Even though better access to clean needles prevents transmission, many states aren't responding. Indiana has been slow to adopt comprehensive laws and policies that reduce the prevalence of hepatitis C.
In fact the state has implemented just one of five CDC-recommended measures to prevent the spread of the disease through sharing contaminated needles. This year, Indiana legalized syringe exchanges throughout the state.
In May 2015, the state legalized syringe exchanges allowing drug users to get clean needles, under the condition that a local health official first determines that there's an HIV or hepatitis C epidemic in the county. In a new bill passed in April 2017 counties no longer need state approval to set up exchanges.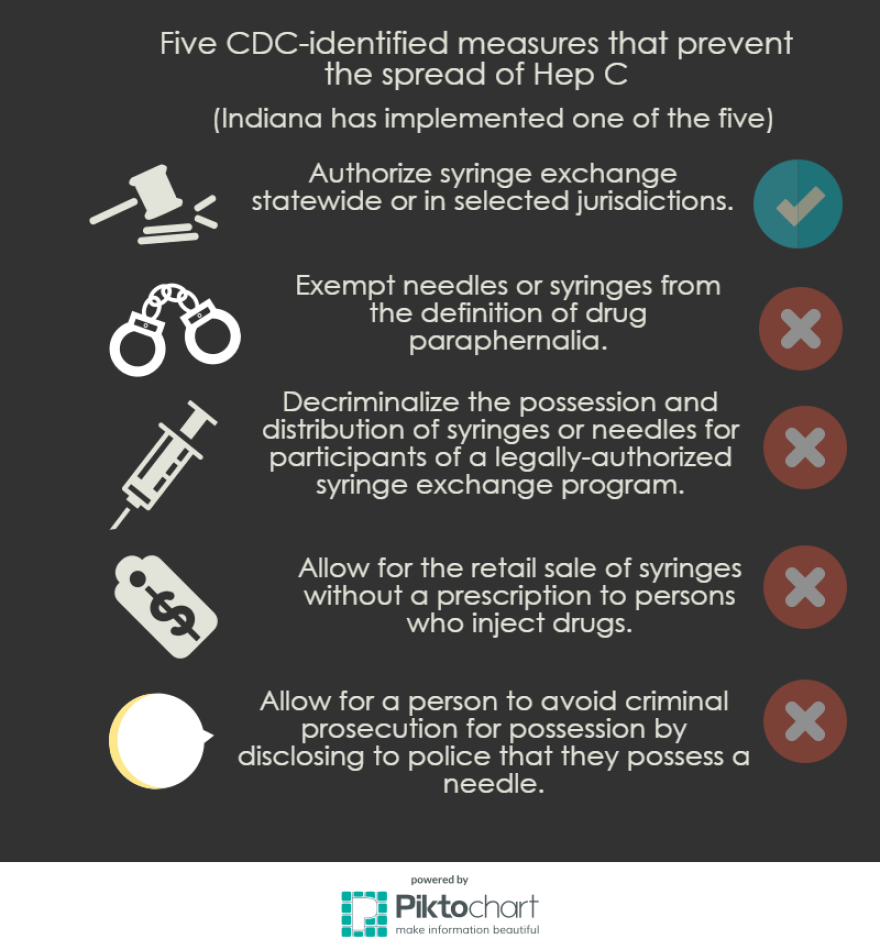 "Yes we have authorized syringe exchange, but we didn't decriminalize the felony charges associated with syringe or paraphernalia, " says Dr. Carrie Lawrence, the Director of Project Cultivate, which tracks and implements syringe exchanges and other harm reduction programs across Indiana.. "So when you think of the comprehensiveness of this policy it's not there yet."
When it comes to curbing the spread of hepatitis C, the CDC says the states with the most comprehensive laws and policies have taken steps to decriminalize the possession and use of syringes. In the new report, the CDC identifies five steps states can take to prevent the spread of the disease through needle sharing. In addition to authorizing syringe exchange programs, the agency also says exempting needles from the definition of drug paraphernalia and decriminalizing possession of syringes for people enrolled in such programs could cut down on rates.
Lawrence says for fear of legal consequences significantly increases the risk of unsafe needle use.
As far as what it would take for Indiana to pursue policies that further reduce the spread of hepatitis C, Lawrence says we'll first have to address the stigma associated with drug use and needles.
This story was produced by Side Effects Public Media, a news collaborative covering public health.