How shaky ivermectin studies overseas wreaked havoc in the U.S.
Not a single scientific or health authority in the U.S. recommends the use of the anti-parasitic drug ivermectin to treat or prevent COVID-19. Still, some Americans see the unproven drug as a way out of the pandemic.
Ivermectin is mostly used in large animals and is approved by the U.S. Food and Drug Administration for treating human conditions, including head lice and stomach worms. But across the country, demand for the drug has surged in recent months — leading to a spike in hospitalizations for human exposures to ivermectin.
The drug is among the latest politically divisive public health issues unfolding across the country. The situation has fast-tracked conversations about the risks and benefits of publicizing research findings that have not yet been vetted by the scientific community. That's because much of the misinformation on ivermectin draws on insufficient data — some coming from low-quality studies, including ones that were retracted after further examination revealed problems and even potential fraud.
The fact that unvetted research conducted in labs overseas could wreak such havoc across the U.S. is a testament to the vulnerable social and political situation in the country, said Jennifer Reich, a sociologist at the University of Colorado Denver.
Many Americans don't trust experts and believe health decisions should be a matter of personal choice — even when those decisions affect other people.
"The thing about COVID, and I think any infectious disease, is that they don't necessarily create new problems. But they magnify the problems we already have," Reich said. "Claims only make sense because they resonate against things that are already happening."
As is the case with many coronavirus treatments, the jury is still out on ivermectin. There are dozens of ongoing ivermectin clinical trials across the world with mixed results. According to the National Institutes of Health, "there is insufficient evidence ... to recommend either for or against the use of ivermectin for the treatment of COVID-19."
Until reliable, high-quality data shows promise, the FDA cautions against its use for COVID.
It started with labs overseas sharing questionable research
Ivermectin's connection to the coronavirus can be largely traced back to a lab in Egypt, which claimed in December 2020 that data from its randomized clinical trial showed the drug is more than 90 percent effective against COVID-19.
The study had not been peer reviewed. It was posted on a preprint server — a website that makes research quickly available to the scientific community and the broader public.
Local Arabic media interviews hailed the study as a national victory. It was, after all, the largest study at the time among dozens of trials taking place around the globe that were posted on preprint platforms around the same time.
This caught the attention of Andrew Hill, a pharmacology researcher at Liverpool University in the U.K., who has played an instrumental role in HIV and Hepatitis C research globally — but when the pandemic hit, he shifted gears to focus on COVID.
Hill and about 40 of his scientific colleagues aggregated the data from studies from around the world, including the trial from Egypt and others from Argentina, Bangladesh, India and Nigeria.
"We had Zoom calls with [people from] 20 or 30 countries, all pulling all their data and saying, 'Here's what my country is working on; look at this study; look at that study,'" Hill said.
The team conducted a meta-analysis — a study that systematically combines the results of numerous studies — and published a paper that concluded ivermectin is nearly 50 percent effective against COVID. But such analyses are only as good as the studies they are based on. Not long after the meta-analysis was published, Hill discovered major problems in some of the studies — including the largest one from Egypt.
Jack Lawrence, a master's student at St. George's University in London, was the first to notice the problems. His graduate class had been assigned several scientific papers to critique, and Lawrence said he was shocked at what he found in the study from Egypt. Most notably: plagiarism and other ethical issues.
"The biggest [concern], perhaps, is that they had reported the study as starting on the eighth of June. And they included a number of patients who had died before that date," Lawrence said.
The paper from the Egyptian lab has since been removed from the preprint server.
Ahmed Elgazzar, the lead author of the Egyptian trial, did not respond to multiple emails and phone calls from Side Effects. In interviews with local Egyptian media outlets, Elgazzar said the decision to remove his paper from the preprint website was politically driven.
Ivermectin: Preprints platforms and misinformation
The pandemic has changed how scientific information spreads. More than ever, the general public is getting involved.
Preprint research websites solve one problem — but may create another
Michelle Avissar-Whiting is the editor-in-chief of Research Square — the preprint server that posted the ivermectin trial from Benha University in Egypt. She said as soon as she was made aware of the problems with the study, she took it down.
Both the Egyptian Ministry of Higher Education and Benha University asked her to remove the study, Avissar-Whiting said.
"I did point them to the information that I had regarding the study that made me doubtful about the validity of the study," she said. "I have not heard anything after that."
Traditionally, when scientists study drug treatments, they conduct clinical trials and submit data for peer review. That's when a panel of experts look at the study to ensure its accuracy and determine whether it gets published in a scientific journal.
It's the gold standard for scientific publishing, but the process can take months, sometimes years. That means the public — including scientists and health care providers — are left in the dark about the new findings while they wait.
When this happens during a global health crisis, there are grave consequences.
During the Ebola epidemic in West Africa several years ago, scientists discovered powerful treatments against the virus, but they waited for the peer-review process before sharing the findings, Hill said.
"During that waiting time, more and more people were dying of Ebola, and it was not acceptable," Hill said.
Then COVID hit.
Avissar-Whiting said some of the early, critical research on the virus — like its genetic code and transmission methods — came out quickly because it was published on preprint servers. This was beneficial for fast-tracking vaccine development, for example.
But the downside was that people outside of the scientific community, who may not understand the limitations of unvetted work, had access to these papers as well.
The large quantity of unvetted COVID research fueled the spread of misinformation online and on social media. Even after flawed or fraudulent studies are removed, they can still hold power in those spaces.
Reich, the sociologist at the University of Colorado, said science is contentious, by nature, and disagreements among researchers are a normal part of the process.
Reich said there are two main ways people can respond to hearing that a preprint study has been removed.
"One is to say the peer-review process is working: Information is becoming more closely evaluated, and some is holding up and some isn't," Reich said.
But for others, particularly those who already harbor mistrust toward scientific authorities, she said the move can be seen as a form of censorship.
"Some people want to look at that and say that legitimate scientific knowledge is being buried or hidden for political reasons," Reich said.
Some preprint servers are looking at stronger safeguards to catch problematic studies before they spread. For example, many are considering requiring researchers to share their raw data, which could allow other scientists to analyze the information and ensure the conclusions are consistent with the results.
When science becomes politicized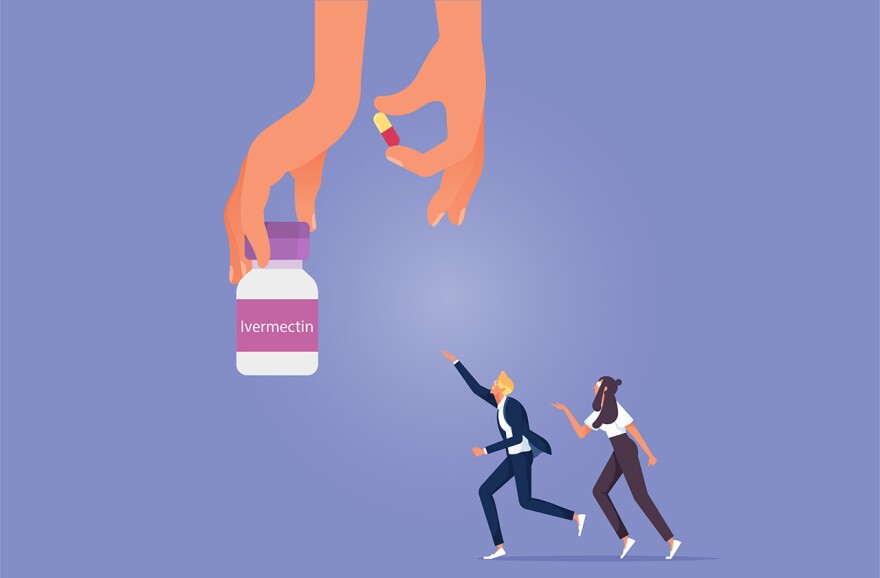 More rigorous screening of COVID-19 research posted on preprint servers could help prevent the spread of misinformation. But the bigger problem is that mistrust of scientific and health authorities is at an all-time high, Reich said.
Public health has become politicized, and some officials have faced harassment and threats throughout the pandemic.
Scientists involved in pandemic-related research — including Hill, the pharmacology researcher at Liverpool University — have received threats as well.
In August, Hill retracted his initial analysis that stated ivermectin is effective and replaced it with a new one that said in light of the problematic data, ivermectin does not appear to be effective for COVID. He immediately encountered a vitriolic wave of online harassment, with the worst of it coming from the U.S.
"I was given death threats on the internet; I was told that I was going to be killed; I was going to be shot," Hill said. "[There were] pictures of coffins and warnings that my family will be affected."
Some accused Hill of being a sellout to big pharma for retracting the study. It's why he — and scores of other scientists who've worked on COVID research — are disengaging with social media.
But that could create even more fertile soil for misinformation to spread, which has consequences.
For example, since the ivermectin controversy began, U.S. poison centers have seen a spike in ivermectin toxicity cases.
Dr. Robert Hendrickson, the medical director of the Oregon Poison Center, recently wrote about this concerning trend in the New England Journal of Medicine.
His center handled three cases in 2020 — but in the summer of 2021, they saw 21 cases in a single month. He suspects that's an underestimate of the total number of people taking ivermectin off label.
In an August report, the U.S. Centers for Disease Control noted a 24-fold increase in ivermectin prescriptions for humans compared to pre-pandemic times. Hendrickson said most of those cases were in people who had taken the veterinary version of the drug which "comes in a paste [and] is extremely difficult to dose for human beings."
The trend has caught the attention of federal lawmakers.
Democratic Congressman James Clyburn, the chair of the U.S. House Select Subcommittee on the Coronavirus Crisis, is investigating two doctors' groups that may be making millions of dollars propagating unproven drugs like ivermectin. The groups' websites list hundreds of providers willing to prescribe ivermectin for COVID treatment and prevention.
Some of those providers charge hundreds of dollars for telehealth appointments to provide people with these prescriptions — on top of the fee patients pay for the actual drug from the pharmacy.
For example, a rural Indiana clinic, Kentuckiana Integrative Medicine, charges as much as $300 for a telehealth appointment to get an ivermectin prescription. The clinic's website states people can get the prescription even if they're not currently sick with COVID. The demand is so high, the clinic claims, that it is conducting group appointments.
Clyburn said he is in touch with the Federal Trade Commission and legal authorities to look at ways to hold the doctors' groups accountable.
"We want to get to the bottom of exactly what they're doing and how they are financially profiting from the misery they are heaping upon many people," Clyburn said.
This story comes from Side Effects Public Media — a public health news initiative based at WFYI. It's also part of a collaboration between WFYI Side Effects Public Media and the Indianapolis Recorder. Follow Farah on Twitter: @Farah_Yousrym.