Stemming The Cycle Of Toxic Stress – For The Kids' Sake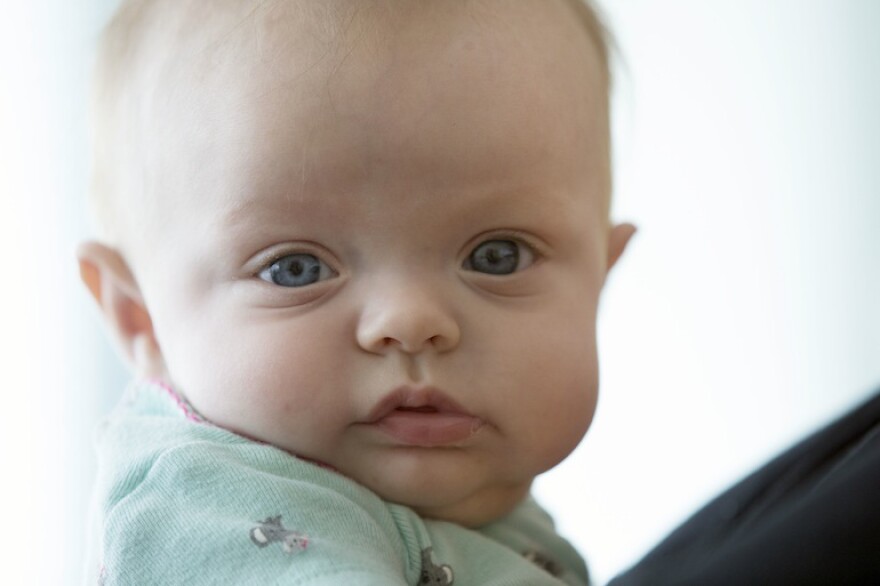 PORTLAND—Samantha McVey brought her 4-month-old daughter, Ruby, to The Children's Clinic for a routine check-up and vaccinations. But within minutes of sitting down with Dr. R.J. Gillespie, McVey was describing her turbulent childhood with a drug-addicted father who spent time in prison.
This story was originally published by Kaiser Health News, a nonprofit national health policy news service.
"How do you think that affects your parenting now?" Gillespie asked.
"I don't want my kids to have to go through that," said McVey, 23.
McVey told the doctor she considers herself a good mom but occasionally loses her temper and yells at Ruby's 5-year-old sister, Madison. "Sometimes I get to the point where I'm crazy," she said.
Gillespie is among a growing number of pediatricians across the country going beyond the typical well-child visit and delving deeper into the history of families like McVey's. The goal is to prevent children from experiencing traumatic events that can interfere with their brain development and increase their risk of physical and emotional problems in adulthood.
A growing body of research shows that children who experience abuse, neglect or other "toxic stress" have a greater likelihood of developing chronic diseases when they get older.
In response, the American Academy of Pediatrics is urging doctors to intervene by identifying and offering assistance to parents and young patients they believe to be at risk. The academy has not endorsed a specific screening tool, and doctors around the country, including in California, Massachusetts and Maryland, are trying different approaches.
Gillespie and the doctors in his practice are trying to identify parents who have had traumatic upbringings to help prevent them from raising their children in the same way.
"Most of what we learn about being parents obviously comes from how our parents treated us," Gillespie told McVey during her recent visit. "We're trying to understand where parents are coming from so we can find the people who might need a little bit more help."
Gillespie's former partner, Dr. Teri Pettersen, has left the practice to get the message out. She now does training for the Oregon Pediatric Society on the issue of toxic stress and the role of doctors in preventing it.
"We were trained to deal with diabetes," Pettersen recently told a crowd of doctors and other staff of the Providence Medical Group in Portland. "We were trained how to deal with hypertension. I don't think anybody was really trained on how to address some of these adverse childhood experiences."
But, she said, "if we are not going to do it, who is?"
Persuasive Research
Between 1995 and 1997, researchers conducted a seminal study on toxic stress, based on more than 17,000 Kaiser Permanente patients in San Diego.
It showed that adults who had more dysfunction in their homes as children were more likely to have cancer, chronic lung disease and heart disease, as well as depression and substance abuse problems. Patients were asked questions about childhood, including whether a parent was mentally ill, imprisoned or alcoholic and whether they suffered physical or sexual abuse.
Researchers from Kaiser Permanente and the Centers for Disease Control and Prevention found that people with four or more "adverse childhood experiences" were twice as likely as those with none to have cancer and four times as likely to have emphysema. The reasons are complex, but one explanation is that such stress leads to unhealthy lifestyle choices, such as smoking. Also, it can affect hormones like cortisol in a way that ultimately damages the body's organs, and can alter how genes are expressed and the brain develops.
More than 50 research articles have been written based on the data from the Kaiser Permanente patients, who are still being followed. Researchers have found that later-life problems can be reduced if children are able to develop a healthy relationship with a parent or caregiver, or get certain clinical treatments. (Kaiser Health News is not affiliated with Kaiser Permanente.)
Dr. Andrew S. Garner, who is leading a work group for the American Academy of Pediatrics, said the science about toxic stress is clear. The harder part, Garner said, is figuring out how pediatricians can best use the research – especially how to have conversations about tough childhoods without alienating families. "We're struggling to try and translate what we know into what we do in clinical practice," he said.
That's what Gillespie and Pettersen set out to do.
'So Nice To Get Advice'
At The Children's Clinic, where stuffed monkeys hang from cut-out trees in the lobby and children flip through colorful storybooks, they created a survey in 2013 asking parents about their past experience with abuse, neglect, bullying, foster care and neighborhood violence.
"We really want to be about prevention," Gillespie said. "If we can be a little more upstream and prevent that cycle from repeating itself that will be the ultimate success."
Parents are also asked to complete a separate questionnaire to measure their resilience — their ability to bounce back from difficult situations — so doctors can identify potential strengths to build on. The clinic, which serves a mostly insured population of diverse ethnic backgrounds, has screened more than 2,000 parents so far. About 40 percent indicated one traumatic childhood experience; 8 percent had four or more.
The most common was separation or divorce, followed by substance abuse and mental health issues in the family. The doctors offer tips on parenting or discipline to families who seem most in need. They also try to connect them with parenting classes or support groups.
At the beginning, Gillespie said it was difficult to bring up such personal questions, and he knows that not all parents are completely honest about their upbringing. But he said over time, the screening has led to important conversations that wouldn't have happened before, including about domestic violence. "I couldn't go back to where we were before," he said.
Several doctors in his office expressed skepticism at first, saying screening would take too much time and would open a can of worms. But they later said knowing more about their patients was helpful, and now 27 of the 28 providers use the screening, Gillespie said.
Others in Portland say poor families may not have the means to follow up on referrals to counseling or social services. And some argue that asking invasive questions can re-traumatize families. They say pediatricians should instead focus on educating all families in their practices.
But McVey, who brought in her daughter for a check-up with Gillespie, said she was glad to learn more about how her past could affect her children. "You may not realize that just because someone in your family had a drug problem that your kids may suffer from that," she said. McVey remembers her father, who died earlier this year, having violent outbursts. Once, when she was 12, he left her alone in a hotel room to go get high. "As a kid, it's tough watching your parent spiral out of control," she said.
McVey said she doesn't touch alcohol or drugs and tries to be patient with her daughters. But sometimes Madison can be really hyper – jumping off furniture and accidentally breaking dishes. "I yell at her, she starts crying and I start crying," she said.
Gillespie suggested to her that Madison may also be trying to get her attention. As you play together, he said, praise her consistently. But as soon as Madison starts jumping on the couch, Gillespie said, you should immediately become silent. "She is probably going to stop because she is going to want to go back to the talking mom," he said.
"It's so nice to get advice on how to handle this," McVey said afterward.
Another parent, 33-year-old Sarah Pike, who filled out the survey during a recent visit, marked "yes" to the questions about being emotionally and physically abused as a child.
"I was really afraid to become a parent," Pike, 33, told Gillespie, as her infant daughter Payton rolled over on the exam table. "I was afraid that I was going to be a really mean person."
"What do you think kept that from happening?" Gillespie asked.
"Remembering the torture I went through as a child and not wanting my children to be treated like I was," Pike responded.
Gillespie told her that understanding what she went through in her own childhood is helpful – and will continue to be as she has ups and downs with Payton and her siblings.
Asking these questions can assure patients that his office is a safe place to raise sensitive problems that might otherwise go unaddressed, Gillespie explained.
"My families are getting the message that they can talk to me about whatever they need to," he said.